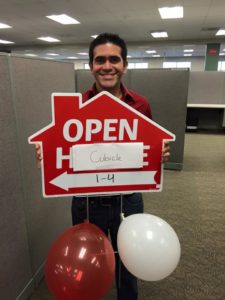 It's August 15th, 2015. My legs were shaking, I could feel the butterflies in my stomach and my palms were getting sweatier with every step I took. I was about to do some something a lot of people would think is crazy and outside of the norm.
I turned on the lights of the conference room, I sit with my manager and I say: " Bret, I want to let you know that I am very thankful for the time I have been here at General Motors. I love my team and the culture, but I now have a new passion and I want to pursue my dream. I am submitting my two weeks notice. I am going to pursue a career in real estate."
Now as of October 2016, I am a full time real estate agent, own 8 properties, and have about $3500-$4000 coming in passive a month.
But things weren't always this great…16 years prior to this, my parents made the sacrifice to leave their home country, Peru, to go in the search of the American Dream. A dream that would challenge me more than I ever thought was possible. I was 9 years old at the time, not knowing much of what was going on, my parents decided to over-stay our visa and we became illegal immigrants. I am what Congress calls "A Dreamer," a person who was brought as a kid to the United States. Being a dreamer came with plenty of challenges.
I made it through high school and got into Florida State University in 2009… but ran into a small issue… I couldn't qualify for any student loans to help me pay my way through college. I won scholarships but they were taken back because I didn't have a green card.
I had to figure out a way to pay for college. So after volunteering at a non-profit working in the IT department for a few months, they decided to hire me. As I was going through the hiring process, they called and said that due to my immigration status, I couldn't work. It was then that I realized I couldn't get a job anywhere! But I didn't let that stop me…. I created my own LLC and began work as contractor doing IT work.
Then one hot August afternoon in my senior year of college (2012), I hear a speech from Obama. And in that speech, Obama passes an executive action that will grant Dreamers the possibility to work and drive. I remember calling my mother to share my excitement. I was 22 years old at that time and I was finally gonna be able to do what all my friends were doing… that was driving and working.
That new executive order was a game changer and it came just in time! I began applying to various companies and one of them, General Motors, hired me right on the spot because of my experience and a recommendation of the Dean. I told them that according to what the lawyer said, I would be getting my immigration paperwork in 3 months. Being that GM interviewed me in September and I was graduating in December, there would be plenty of time and I would be able to start in January of 2013! That was one of the best calls that I ever did to my parents. I was going to be the first ones in my family graduating college and now working for a Fortune 5 Company in Austin, TX. I made them proud! I was finally gonna be living the American Dream!
Then I faced another obstacle. It was December of 2012 and I am still waiting for my paperwork from immigration. I am supposed to move to Austin and start working in a few weeks… And I have NOTHING! I am confused, frustrated and anxious. How the heck I am going to move to Austin where I know nobody, can't drive, and don't have a guaranteed job yet???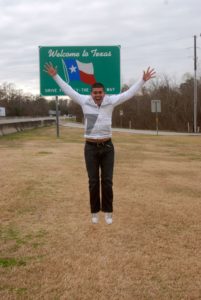 So I took a leap of faith and I moved to Austin anyway. I figured… If I have overcome all of these obstacles it's just gonna be a matter of time till I find a solution. In January, while talking with upper level management at General Motors, I convinced them to hire my LLC and hire me as a contractor for the time being. And they did! A few months later, I get my paperwork from immigration and I finally became a full time employee! I am very grateful for my managers at GM. They decided to help me, when they could have just hired another college kid.
While I was in college I read Rich Dad, Poor Dad, and I knew if I followed what this book said I was destined to be wealthy in all areas of my life. That is when I began to read about real estate in my spare time. In 2014, I met a mentor who helped me get my real estate license. While in my search on becoming the best agent I could be, I heard a podcast for real estate agents podcast where a really successful man named Pat Hiban talked about his mastermind group called Gobundance. Gobundance is a tribe for healthy, wealthy men who choose to lead epic lives.
I followed Pat on twitter and messaged him to introduce myself. Pat told me Gobundance was a mastermind group for millionaires. I told him I wasn't one yet, but that I wanted IN. A few months later, I found myself at David Osborn's ( a real estate mogul who is worth over $80 Million) house with 15 other millionaires masterminding for 5 days. I couldn't believe it! There I was at 23 years old being worth $35,000 and in a room of millionaires. They accepted me in the tribe as the first apprentice (now there is a program for aspiring millionaires called: March to A Million) and they became my mentors in this journey of financial freedom.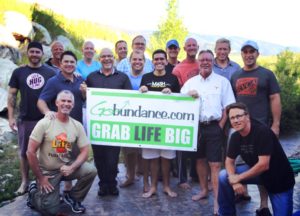 I did whatever my new mentors told me to do. Whatever event they recommend, I attended. Saying YES, made all the difference. I have gotten to fly on the private plane with one of my mentor's David Osborn, gotten to meet Robert Kiyosaki and Robert Hershevek. I have gone to 2 Tony Robbins events and I learned that I had to get out of my comfort zone so that I become the person I was meant to be. I went from being afraid of public speaking due to my stuttering to speaking in front of 275 people!
Personal development has been a hell of a ride and has opened a lot of opportunities. I stayed focused on what I wanted, I built the habits that I needed, and surrounded myself with people that held me accountable. I heard David Osborn say once: "The quality of your life, is in direct proportion with the quality of your peer group."
So yes, I have had a lot of obstacles in my life. But I decided through all my obstacles that I have to be happy with what I have, as I build the life of my dreams.
I heard Hal Elrod, author of the Miracle Morning, say something that stuck with me because that is the exact way I was living my life. He said "Focus on your vision, not your current circumstance." You see we all have obstacles and challenges that we must overcome. But these obstacles don't define you.
The only thing we can control is our attitude and the meaning that we give those situations. Your philosophy in life is the most important thing.
So I challenge you, don't settle for anything less than your best. You were given the gift of being born in a country where you can be and have anything you want. But!… there is a price, it doesn't come for free. It takes perseverance, dedication, and self-discipline. A lot of people feel entitled and just want to coast in life. They conform because of what they see around them. And I will tell you this, nothing great comes out of being average.
You have to accept the responsibility from your past. You can't change it, but what you can change is your future. And that is why we are here. If you didn't care about your future you wouldn't be reading this. Don't blame society, your parents, the government or your boss because of your current situation.
If I can do it. An immigrant who came at the age of 9, not being able to drive till the age of 22, working for a Fortune 5 company to quitting corporate America and to now owning 8 properties.
Now that you know a bit more about me, I have some questions for you. What is stopping you from taking full responsibility, focusing on your vision and achieving financial freedom?!?!
Let me know in the comments below how I can help you achieve that freedom!
http://freeby26.com/wp-content/uploads/2016/10/San-Diego-FinCon.jpg
720
960
Diego
http://freeby26.com/wp-content/uploads/2016/10/UpdatedLOGO.png
Diego
2016-10-13 03:45:35
2017-02-02 04:55:21
Who is this Diego guy? - If I can do it, so can you!