I wish I could tell you: "It was magical! Everything went as planned!" but it didn't. I bought my first property in October 18th, 2013. I won't forget that weekend because it was the same one I ran my first marathon.
I was 22, living in Austin, TX , and living in a rented room for $500 a month when I decided to buy a home. I had a strategy to buy a home and rent out the bedrooms while I lived in the master bedroom and have my roommates pay for the mortgage. I call this House Hacking- I will explain in detail in a future post. House Hacking works well is because you can buy a home with a 3.5%-5% down payment. This means that if you want to buy a home that is worth about $200K, you will need less than $10K in down payment. Pretty cool!
In August of 2013, I got pre-qualified to get a mortgage and I began looking at homes in Austin to start House Hacking. I submitted an offer, did an inspection, negotiated repairs and then… 2 weeks prior to closing, the lender told me that I couldn't qualify for the loan because I was missing immigration documents to show my current status in the United States. This was heartbreaking; to put it lightly. I saw my dreams crashing and burning.
I remember speaking with my father, Jorge, and my mentor, Adam Carroll; The goal of buying 10 properties before I turned 35 seemed pointless. They encouraged me keep my chin up and look at other options.
I took their advice and thought of alternative ways to buy properties without a loan without needed tons of cash. One night, while talking with my dad on the phone, he asked me how much I had saved.
I thought; "$25K…," I responded.
He suggested finding a home under $50K, partnering up, and splitting the cost.
My dad was onto something. This might work. I thought. Properties in Florida are a lot cheaper than they are in Austin, especially in Bradenton, the city where my parents live.
A few weeks later we found a home in Florida for $65K. It was a 3 bedroom, 1 bathroom home in a decent area. The rent would be around $950. This was a great return!
By this time, I had been listening to the Bigger Pockets podcast (this is a must-listen if you haven't yet), where I learned about the 1% Rule. The 1% Rule is basically making sure that the rent is at least 1% of the price of the home. For example, if you buy a home for $100,000, you should rent out the home for at least $1,000.
In my case, we bought it for $60,000 and instead of getting $600, we were going to get $950 a month, which exceeded the 1% rule! The problem was that my dad and I barely had over $50K and we needed to buy this house cash. We went back to the drawing board to to think of different ways that we could get $10K. Fortunately one of my options was to borrow the money from my best friend, Pascal Wagner. I borrowed the $10K and told him we would pay him within 6 months. He agreed and we bought the home cash in 2013. My first investment property!
Check it out: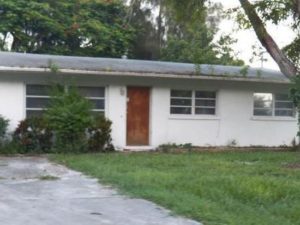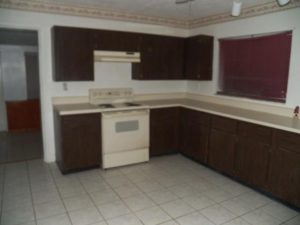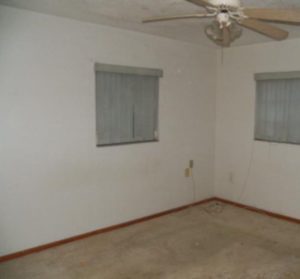 ---
Here was the best part, the tenant that we got for $950 was living with her 2 adult children. The daughter asked my dad one day if he had another place for rent because she needed more privacy but still needed to be close to her mom for medical reasons. My dad asked her if she would be ok living in the garage if he converted it to an efficiency and added an extra bathroom. She agreed. So once again, we got creative!
My dad found contractors, built an extra bathroom and we closed off the garage. We turned it into an "Efficiency." We had to invest about $5K to make this happened but now we had a 3/1 renting for $900 and the efficiency for $400, for a total of $1,300.
We still have this property and my dad currently manages the property.
Our numbers for the property right now are the following:
Monthly Income:
Monthly Expenses
Taxes: $100
Insurance: $60
Repairs/Reserves: $100
Monthly Income – Monthly Expenses = Net Income = $1,040
Yearly Net Income: $12,480
Total investment: $65K
Cash on Cash return: ~19.2%
We were thrilled with the first property. I am 50 50 partner with my dad and we have a good return. It was a great learning experience and since I live in Austin, I haven't seen it. My dad did all that work and I am very grateful for that. I didn't get to house hack on this one, it was for the better. My return from the home was about $500 a month, and my rent for the room I was living in was $500, so now my passive income was paying for my living arrangement.
Opportunities are there. We have to look, create, and go for them. I could have made excuses to not invest and not put all my cash in the first property. I could have waited for the best property, but that could have taken months, I just wanted to TAKE ACTION! There are times where you have to partner up with others to pull the trigger. As one my mentors, Rock Thomas says: "Say YES, and figure it out later."
Thank you to Adam Carroll for supporting me and helping me view my situation from a different perspective, to Pascal Wagner for his friendship and giving me the loan ( he would later become my business partner in buying 3 more properties) and to my dad, Jorge Corzo, who became my first real estate partner.
In the comments below, please write your questions or share the story of how you bought your first property or how you plan on buying your first property.
http://freeby26.com/wp-content/uploads/2017/01/First-property-1.jpg
413
550
Diego
http://freeby26.com/wp-content/uploads/2016/10/UpdatedLOGO.png
Diego
2017-01-23 05:19:23
2017-02-14 04:18:57
How I bought my first property at the age of 23